About our Gospel Service: All of our ministry pastors are doing the Gospel work of Jesus Christ and services among the poor and downtrodden people, some of them are working among them those are Hindus living in rural areas. These people are very dangerous and our work is risky. In spite of these evil circumstances.we are pressing towards the mark for the prize of the high calling of God in Jesus (Phil3:14) By His mighty power we go forward by walking to proclaim the message of salvation through tracts and booklets. We are conducting street meetings, night prayers, night-evangelism, visiting house-to-house for sharing the word of God and His love towards deliverance of the heathens.
We work hard to provide these services for our Lord unto His glory, because in our area, people do not have Jesus in their hearts.  All are completely Hindus or involved in witchcraft. Through the distribution of our gospel tracts, we are spreading the truth of God's Word among Hindus and others who are lost. Here many people are accepting Jesus Christ as their savior and are coming into the salvation of the Lord Jesus. Proclaiming the Gospel is very hard here, but we bare this cross for His sake. Our work is all being run on faith that the Lord will supply all our needs.  we need your prayers and kind supports.
About Our Co-Pastors and Family Position in our Mission;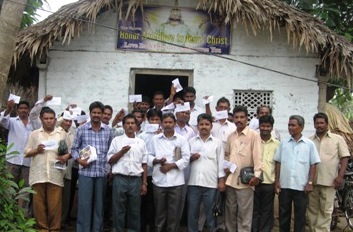 Our Mission helps many of the Co-Pastors/evangelists who are laboring in the villages among agricultural laborers and who are unable to support their own families. Our co-workers belong to the very poor; but we are committed to equip co-workers and local churches to carry out the Great Commission. Our co-workers cover over 30 villages per month with gospel tracks, preaching the Gospel, holding Bible studies, establishing churches and helping to grow their congregations. Most of the pastors/evangelists live and worship God in simple thatched roof huts, under trees and even on the side of the road.  None of our co-workers have any good housing or land on which to build a church or house.   However, we are determined to see that the Lord's work is done. Our co-workers are facing many hardships during their Gospel outreach, such as hunger, prejudice, poverty and lack of basic resources.
Present Our Pastors and leaders do not even have their own bicycles to do the gospel work in their local areas. please pray for our pastors and they needs. Please feel free to contribute towards the families of our pastors and to purchase a bicycle for our pastors. Thank you.