About our Gospel Service: I and All of our ministry leaders are doing the lord works and Gospel outreach service and worship service in India among the Hindu people and downtrodden people and idol worshipers and danger people of sorcery and witchcraft people and different Christian community. India is a dark land. I and My co-laborers always going to long distance places where Jesus was not known, by walking to spread the Word of God to the Tribal, mounts, and Interior people though the forest region, Daily we are all visiting door to door each village of rural areas and distributing gospel tracts and Bibles and preaching gospel of Jesus with them, We have been facing many problems by evil snakes, elephants, bears, tigers, etc, but our Lord saves us from all of these dangers and He given us the good way to our lags for spreading gospel in India. We prayed for the sick people and people of India. In the nighttime we conduct street meetings in that village for teach the truth of God's word. These people are very dangerous where we touch them with gospel of Jesus and our work is risky. We are all working among them although In spite of these evil circumstances for Jesus. Because, Philippians 3:14 I press on toward the goal to win the prize for which God has called me heavenward in Christ Jesus. By His mighty power we go forward by walking to proclaim the message of salvation through tracts and booklets. We are conducting street meetings, night prayers, night-evangelism, visiting house-to-house for sharing the word of God and His love towards deliverance of the heathens. We work hard to provide these services for our Lord unto His glory, because in our area, people do not have Jesus in their hearts. All are completely Hindus or involved in witchcraft. Through the distribution of our gospel tracts, we are spreading the truth of God's Word among Hindus and others who are lost. Here many people are accepting Jesus Christ as their savior and are coming into the salvation of the Lord Jesus. Proclaiming the Gospel is very hard here in India, but we bare this cross for His sake. Our work is all being run on faith that the Lord will supply all our needs. I request you that we need your powerful prayers and kind supports for cost of printing gospel tracts and purchase Telugu Bibles and Books and church materials.
1 Corinthians 9: 16 Yet when I preach the gospel, I cannot boast, for I am compelled to preach. Woe to me if I do not preach the gospel!
About Our Co-Workers and Family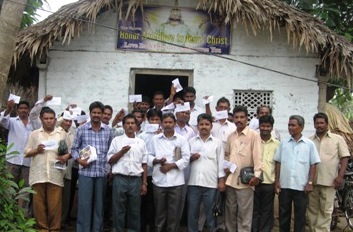 Our Mission is helping many of our Co- workers. Because they are came from the very poor family to do the lord works in their local areas. We are committed to equip co-workers and local churches to carry out the Great Commission. Our co-workers cover over 30 villages per month with gospel tracks, preaching the Gospel, holding Bible studies, establishing churches and helping to growth their local congregations and people of India. Most of the workers are live and worship God in simple thatched roof huts, under trees and even on the side of the road, but they are wining many souls for Jesus and our co-workers are facing many hardships during their Gospel outreach, such as hunger, prejudice, poverty and lack of basic resources. Their children's are suffering without food and study free and necessary things. Because their prayer offering are came very low that unable to maintain their own family and church by their small prayers offering. Here all church members are very poor and labors. It is very hard to every worker for spreading gospel and maintains their church in India.Really our co-workers need your supports and prayers and encouragements to do the lord works in India. Our leaders do not even have their own bicycles to do the gospel work in their local areas. They are spreading gospel by walking. They need bicycles. One bicycles cost is $80 dollars. They Need Monthly salary Each One need $ 45 dollars for maintain their family and church programs. Please let us know how to help us for our works will do more and more in India. You want to join in this blessed Project and help to Love Each Other Ministries as the lord leads you. Looking forward to hear from you as soon as possible.
Sincerely in Christ,
Sunil Paul Chapala & Ludhiya.
Email to chapala4@yahoo.com